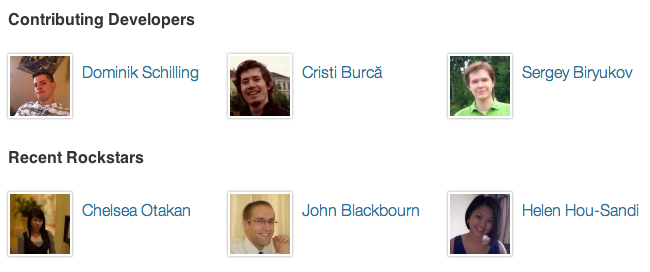 The WordPress 3.3 credits page was updated today, for likely the final time. In five months, there were nearly 1,200 individual changes to WordPress (and counting).
The credits page lists every individual who contributed to the latest release. A few stood out for their contributions, not just of high quantity, but of tremendous quality: Dominik Schilling (ocean90), Cristi Burcă (scribu), and Sergey Biryukov. The three are listed as contributing developers to 3.3. The core team — including guest committers Jon Cave (duck_) and Daryl Koopersmith — worked with these three daily, and they had a collective hand in nearly every major task this release.*
There were also three individuals added to the 'Recent Rockstars' group for their recent contributions to core development. This release we chose Chelsea Otakan (chexee), Helen Hou-Sandi, and John Blackbourn (johnbillion). All together, the six contributing  developers and rockstars we've recognized contributed more than a fourth of all Trac comments and two-fifths of all props.
If you want to see the full list, click the WordPress icon in the 3.3 toolbar and head on over to the credits page, or wait for the release post (coming soon!). Maybe I'll also experiment with a word cloud again as I've done in the past.
In WordPress 3.4, we plan to recognize first-time contributors on the page, so if want to see your name in lights on the credits page, contribute to WordPress.
* Fun fact: Average age of the five mentioned in this paragraph: 23.